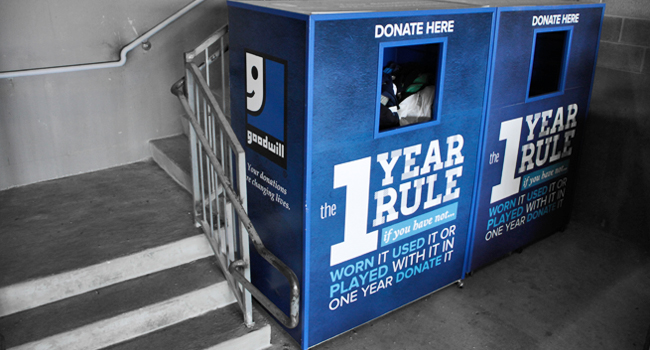 08 Jul

Law Boosts Transparency, Accountability for Donation Bins

The sponsor of new Tennessee regulations on donation collection bins says she believes the rules will go a long way to protect legitimate charitable organizations, such as Goodwill, and citizens who donate to them.

The legislation, which was signed into law by Gov. Bill Haslam on April 20, requires that the bins display on at least two sides the charity's name, address, phone number, email address and a statement of the charity's purpose. Non-charitable organizations that deploy these bins must display a disclaimer stating that the donations will be sold by a for-profit business and are not tax deductible, while businesses donating just a portion of proceeds from the bins to charity must declare that and make further information available on request.
"We wanted to provide transparency to our constituents in Tennessee, and we wanted all Tennesseans to feel like if they donated clothing or appliances or shoes that whatever they thought they were donating to — that's exactly where it was going, " said State Rep. Brenda Gilmore, D-Nashville, the bill's sponsor.
The law further requires that all organizations placing donation bins in the public view first get the written permission of the property owner, and that bins be regularly emptied and the area around them be kept clean and neat. If bins become unsightly, there are clear steps property owners can take to remedy the situation.
"I think it's going to protect the good actors — people who are trying to provide a way to make extra donations to charities, and as far as those bad actors, I  think this legislation will be a way to finally hold them accountable," Gilmore said.
Read this summers edition of The Ambassador – Goodwill's quarterly magazine which provides readers with stories of events, activities and the inspiring changes Goodwill is making in the lives of others.
VIEW AMBASSADOR
About Goodwill Industries of Middle Tennessee, Inc.
For more than 55 years Goodwill Industries of Middle Tennessee has provided job training and job placement free of charge to people with disabilities or other barriers to employment through the sale of donated items. In 2014, Goodwill served 28,159 people in Middle and West Tennessee and placed 9.558 people in jobs. More information about Goodwill's Career Solutions, retail stores and donation centers can be obtained online at  www.giveit2goodwill.org or by calling 1-800-545-9231